We heard you, and we're pleased to present our 2023 bookkeeping services price list!
"Accurate financials. Total peace of mind."
Best For
Bench is focused on helping small business owners to save time and money by taking over bookkeeping and income tax work so they can focus their efforts on the growth of their businesses.
Services
The Bench bookkeeping and income tax team offers dedicated experts and financial software that's so easy to use.
Pricing
The Essential package is $249 per month billed annually, or $299 monthly. It's best for people who want a professional bookkeeper to help for their peace of mind and accurate financials. It includes dedicated bookkeeping experts with unlimited communication, monthly books and year-end tax-ready financial packages, a profit and loss statement, a balance sheet, and 1099 reporting.
The Premium package is $399 per month billed annually, or $499 monthly. It's best for people who want an all-in-one service that covers bookkeeping, tax advisory, and income tax filing. It includes everything in the Essential package, plus a dedicated team of licensed tax professionals for personal and business income tax return and annual state and federal income tax filing, plus year-round unlimited 1-1 income tax advisory services.
Description
Bench is a team of small business experts who work to generate perfect books for clients. They are real humans importing bank statements and preparing financial statements every month. Each client has a dedicated in-house, professionally-trained bookkeeper based in North America as a main point of contact. 
Next on the bookkeeping services price list is QuickBooks Live.
"Accurate books mean stress free tax time."
Best For
QuickBooks Live is best for book cleanup. This is a process by which you get in touch with a Live bookkeeper. Then you provide them with access to your books and perhaps some other financial documentation. They will look over anything that you have not properly maintained. Then they will get everything up to date. After this process, which typically takes 30 days, you can keep working with the bookkeeper to maintain your books.
Services
You will get a Live Bookkeeper partner who understands your business. They are well-trained to work with accuracy, bringing and keeping your financials up to date. With a full charge bookkeeper, you get a QuickBooks-certified bookkeeper who will professionally manage and maintain your books.
Cleanup includes getting your past financials up to date and updating your profit & loss and balance sheet. You will get a personalized setup with the bookkeeper assigned to you. This is so you can give them what they need to get equipped to best help you. You can also get ongoing bookkeeping after this if you choose to. This provides organized financials, closing your books for tax time, detailed business reports, and virtual support when you need it.
Pricing
Full-Service Bookkeeping starts at $200 per month after the initial month 1 cleanup fee. This fee is based on a custom quote that will depend on what you need specifically. 
Description
QuickBooks Live takes bookkeeping off your plate so you can get back more time each day to focus on growth. You can then get a better financial picture of your business with your QuickBooks Live Bookkeeper support.
"Your All-In-One Personal and Business Solution."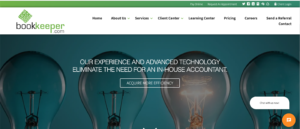 Best For
This service handles both bookkeeping and accounting very well. They are best for businesses who don't need full-time, in-house support. 
Services
Bookkeeper.com has a dedicated team of bookkeepers and accountants. They give you accurate, high-quality bookkeeping services. You don't have to pay more for an in-house professional. You can also get help with tedious tasks like bill payment. Bookkeeper.com can also offer you top-notch payroll services to free up your time. Plus, although you may not think of payroll as a critical task, you will get help from people knowledgeable about tax laws and deposit rules. Speaking of taxes, doing your own returns can be complicated because of difficult tax code ins and outs. If you're looking at upping your financial planning and investment game, they can help you understand it and address these needs, too!
Pricing
The Tax service starts at $350 and includes the preparation of business property and federal and state tax returns and tax planning. 
The Bookkeeping service starts at $399 per month and includes bank, credit card and loan reconciliations and the preparation of monthly financial statements by a dedicated bookkeeper and account manager. 
The payroll service starts at $125 per month and includes direct deposit, federal and state payroll taxes, and an employee portal.
Description
We are your dedicated team of bookkeepers and accountants working to provide high-quality bookkeeping services for far less than the cost of hiring an in-house accountant. We care about your business and will be with you every step of the way. Our team will know your finances, inside and out, and will be there to answer all of your questions, no matter how big or small!
Also on our bookkeeping services price list is Merrit Bookkeeping.
"The easiest bookkeeping service on the web."
Best For
Merritt is best for people who want to take advantage of benefits that most other services do not provide.
Services
Bookkeeping with Merritt is simple and easy. Your bank statements go to the team each month through automated software. Then you get your financial reports back in a format that you can easily understand. You can review them and make adjustments if you want through a simple web interface. 
Pricing
Merrit charges just $190 per month for everything – no tiers, contracts, or hidden fees. Plus, they offer a 90-day full money-back guarantee.
Description
Merritt uses QuickBooks, the industry standard software. Your data will not be trapped should you choose to move to a different service. They also custom-built an easy-to-use interface so you don't have to learn QuickBooks.
"Reliable monthly bookkeeping for the eCommerce industry."
Best For
EcomBalance focuses on bookkeeping services that cater to growing eCommerce businesses. They specialize in helping sellers on marketplaces like Amazon, Walmart, and Ebay, plus those with their own stores like Shopify.
Services
This bookkeeping service integrates all your eCommerce sales channels into QuickBooks Online or Xero. They make it all plug and play, no matter what state your books are currently in. You get your financial statements every 15th of the month. These include profit and loss statements, balance sheets, and cash flow statements. You'll get findings and recommendations, too. 
Pricing
The monthly charge starts at $399 per month, depending on the details of your business. You can get an estimate by entering a revenue range, number of accounts, and your sales channels. 
Description
The EcomBalance team learns your business and integrates with your team to take away the bookkeeping hassles.
Another one on our bookkeeping services price list is Pilot.
"One team for all your accounting needs."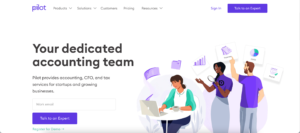 Best For
Pilot is the largest firm in the US that focuses on bookkeeping, CFO, and tax services for startups and growing businesses. They are experts at SAFEs, board decks, and financing rounds.
Services
With Pilot, you can uncomplicate selling physical goods. The team knows inventory tracking, and much more associated with sales, on top of the actual accounting. Their bookkeeping service offers triple-checked financial statements. They also make income tax preparation simple through expert support for federal and state filings, as well as 1099s. If you need assistance in the areas of budgeting, fundraising, KPI tracking, or board decks, the Pilot CFOs can advise you on what to expect.
Pricing
The Bookkeeping Starter plan is for pre-revenue startups. It goes for $499 per month, billed annually. 
The Core plan is for companies with streamlined needs. It goes for $699 per month, billed annually. 
Both plans cater to businesses with $15,000 in monthly expenses. If you have different needs, you can opt for the tailored Plus plan with custom pricing. 
Description
The Pilot team is 300+ strong, all based in the US. Their accountants, fractional CFOs, and tax specialists focus on building your business a strong financial foundation. They boast thousands of clients running startups, from those with two founders to hundreds of team members.
"Say hello to better online accounting."

Best For
1-800Accountant is best for businesses that want accounting that's specialized to their specific business needs. 
Services
If you are starting a business, 1-800Accountant can help you pick the best entity for your circumstances so you can get the best tax savings. For your small business, they can help you save over twelve thousand dollars every year on taxes, including getting back the biggest refund possible. Their payroll service offers simple integrations by experts and automatic calculations so that running payments and benefits is easy. With 1-800Accountant bookkeepers, you can save both time and money so you can focus on your business's core functions. 
Pricing
The Startup plan caters to new startups that want to file an LLC. It starts with just the state fee and offers customized articles of organization, verified business name search, unlimited support by phone and email, and secure online access to your incorporation documents. 
The Business plan caters to businesses that want basic accounting support. It goes for $139 per month, billed annually. With this plan, you get access to the portal, a dedicated accountant, year-round tax advice, proactive tax planning, and quarterly reviews. 
The Corporation plan caters to businesses that want help with tax filing and planning. It goes for $239 per month, billed annually. With this plan, you get everything in the Business plan, plus personal and business tax preparation. 
The Enterprise plan caters to businesses that want expert, full-service support. It goes for $399 per month, billed annually. With this plan, you get everything in the Corporation plan, plus priority support, bookkeeping, and financial reports.
Description
1-800Accountant matches each business with a CPA knowledgeable in the inner workings of accounting and taxation in your industry and state. They are equipped to answer your most challenging questions and advise you toward growth. They designed their services to give you great value, or your money back within your first 30 days of use.
"Online Bookkeeping For Agencies, SAAS, & Small Businesses."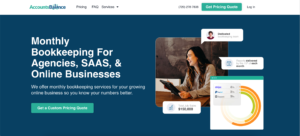 Best For
AccountsBalance offers specialized services for agencies, SAAS companies, coaches, course owners, and other small businesses. 
Services
With AccountsBalance, growing businesses get online bookkeeping that helps you understand your financials better.
Pricing
AccountsBalance pricing consists of two parts. First, you have a fixed monthly price you can estimate based on your business's revenue and number of accounts. Second, you have a fixed price for any catch up and clean up work you need done.
Description
AccountsBalance offers you online bookkeeping expertise for online companies. You'll get on-time bookkeeping updates by the 20th of each month. With your dedicated online bookkeeper, you can reach them via email, text, or Zoom video calls when you have questions. The team employs proven processes that learn your business and customize the monthly bookkeeping activities to match so that your digital business needs are met.
Last but not least on our bookkeeping services price list is Bookkeeper360
"The Best Overall Bookkeeping Solution for Small Businesses."
Best For
This service is best for businesses who want to work with a purely US-based team. 
Services
Bookkeeper360 empowers their experts with technology to manage your accounting at a high level. It's a simple solution with a personalized touch to deliver to you everything that you need all in one place. They can help you with bookkeeping, payroll, tax services, and CFO advice. It's a complete set of business financial solutions. The bookkeeping team works directly with the tax pros, CPAs, and CFOs. This way, you don't need to spend time keeping everyone on the same page.
Pricing
You can get started for $500 with the Pay-As-You-Go plan that charges $125 per hour for support. This gives you a dedicated accountant and on-demand bookkeeping, training, and advisory services. 
The Monthly plan starts at $399 per month for businesses with up to $20,000 in monthly expenses. This gives you a dedicated accountant, monthly reconciliation, a profit and loss and balance sheet, best-in-class support, a monthly financial meeting with a review of the KPIs in the Bk360 app.
The Weekly plan starts at $549 per month at the same monthly expense level. This gives you everything in the Monthly plan, plus a dedicated accounting team, weekly updates, and advanced reporting.
Note that all pricing differs for businesses using the accrual vs cash basis accounting methods and with different monthly expenses. 
Description
Bookkeeper360 is dedicated to providing their clients with high-quality teams of bookkeepers who care about their businesses. They are friendly and responsive to communication, and don't use overseas labor.
What Is EcomBalance? 
EcomBalance is a monthly bookkeeping service specialized for eCommerce companies selling on Amazon, Shopify, Ebay, Etsy, WooCommerce, & other eCommerce channels.
We take monthly bookkeeping off your plate and deliver you your financial statements by the 15th or 20th of each month.
You'll have your Profit and Loss Statement, Balance Sheet, and Cash Flow Statement ready for analysis each month so you and your business partners can make better business decisions.
Interested in learning more? Schedule a call with our CEO, Nathan Hirsch.
And here's some free resources:
Conclusion
If you need help with the books, this bookkeeping services price list should help you find a solution that works for your needs and budget.