Do you actually need Squarespace accounting software? 
Yes!
Picture this. You've just created a website and are ready to do business. But you can't, because you don't know how to manage your finances. So, now, you're looking for the right accounting software for Squarespace sites. 
With the abundance of Squarespace accounting software online, how do you know which ones are the best, that actually integrate properly? 
Well, the good news is, we've compiled our top picks just for you! We've done our best to summarize these five compatible Squarespace accounting software tools. We'll go through what they are about and what they offer. 
Dinero is the best online accounting software in Denmark. We think it's a great accounting software for Squarespace specifically, too. Their program is suited for entrepreneurs up to medium-sized businesses. They are a "social accounting program" that learns from the bookkeeping practices of several companies to learn and develop optimized solutions. 
Dinero was born out of the founder's frustration with the expensive, complicated, and old-fashioned software at the time. And so, with the help of some investors, they created accounting software that allowed the average person to do their own daily bookkeeping, invoicing, VAT accounting, and get an overview of their sales and expenses. It was made to be simple, intuitive, and look good! Dinero also offers free courses to get you up to speed with Dinero's software. 
What do you get with Dinero?
Create unlimited sales invoices you can send on the go

Automatic invoice tracking – send payment reminders and overdue fees, see when customers see an invoice, and get an overview with their Reminder Module 

Faster payments with payment gate integrations

Unlimited number of transactions daily 

Manage unlimited customer and supplier contact data in one place

Track, manage, and report VAT manually or automatically 

Easily delete unwanted postings or attachments and create counter-postings

Capture receipts for easy and automatic bank reconciliation, easily accessible 

See key metrics via their reports and compare them to last year's reports

Smart document scan feature that automatically identifies relevant information

Accountant access so you can collaborate 

A Tax Test that shows you if you've given too much or too little tax
Xero, a web-based accounting software, was made to help small businesses succeed. If you're looking for Squarespace accounting software that you can easily use without having an accounting dictionary handy, Xero's layman-friendly software is a definite option. 
Xero allows you to collaborate with your own accountant or bookkeeper. They can even connect you with one of their financial advisors and customer support staff should you need that extra bit of assistance. With Xero, you can save time with automation and make your life easier and more optimized with their suite of over 1000 apps and integrations. With over 3.5 million active subscribers in more than 180 countries, Xero is a popular option.  
What do you get if you go with Xero?
Multiple layers of data security measures allow you to store and share your data safely

Automatically store data with Hubdoc

Access a customizable accounting dashboard – View your financial health, view your cash flow, see payment details, see your account balances and reconciliations, track your balances, bills, invoices, etc.

View your accounts payable and pay bills on time 

Pay and get paid quickly and in multiple currencies 

Claim expenses and view spending with expense management tools

Connect your bank accounts, reconcile transactions, and stay up to date 

Track your projects – track costs and profitability, create quotes and invoices, and access other project management tools

Manage your contacts – see customer and supplier details including sales invoices and payments 

Access and run accurate financial reports in collaboration with your advisor

Track inventory – keep an eye on stock levels, view inventory reports

Create and send invoices on desktop or on their app 

Create and send purchase orders and track these deliveries 

Create and send professional quotes

Fixed assets tracking and management

Xero Analytics for tracking metrics and Analytics Plus for customization and predictions 

Automated sales tax calculations
Synder is an accounting software that offers almost fully automated solutions for your accounting, bookkeeping, and reports. This tool can help you know your numbers so you can make better-informed business moves and scale your efforts. They believe in the value of technology when it comes to making financial management more efficient, more accurate, and well, more manageable. Don't worry about spending so much time and resources on small, repetitive, secondary business tasks. Synder has helped save businesses more than 3000 hours worth of work. With this Squarespace accounting software option, you can leave the busywork to their tech and focus on business growth. 
What do you get with Synder?
Up-to-date and compliant data security and encryption so your privacy and your sensitive data are protected

Daily synchronized order and customer information as well as financials so you can have access to all the data you need to see 

A large array of integrations with eCommerce (

Shopify

,

eBay

,

Amazon

, etc.) and payment (

Gusto

,

Stripe

, etc.) platforms 

24/7 customer support via email, live chat, and phone, can also help you with onboarding and setting up the software 

Customizable smart rules that let you choose what to put on auto-pilot so you don't have to deal with tedious tasks

A variety of fast, accurate, and up-to-date financial reports that can be automatically generated. This includes the big three (P&L, Balance Sheet, Cash Flow) and which products are best-sellers.

Multi-channel inventory management tools like product mapping 

Multi-sales channel financial recording

Bank-to-software reconciliation 

Metric-tracking like COGS and other KPIs across all channels

Categorization options for income and expenses

Expense tracking

Automatic tracking of fees and taxes across channels 

Smart invoicing that allows you to set up one-time or recurring invoicing, set automatic payment reminder dates
FreshBooks is a cloud accounting software that was built with small business owners in mind. They offer fully integrated double-entry accounting available on any device which makes it easy for you to take control of your finances on the go. As far as Squarespace accounting software is concerned, FreshBooks has all you need from invoicing and expenses to payments and financial reporting. Freshbooks has helped more than 30 million people across the globe save up to $7000 in billable hours. 
They also offer award-winning, world-class customer support no matter the subscription tier and even during free trial periods. Their team helps you gauge what your needs are and offers personalized help. 
What do you get with FreshBooks?
Create and send unlimited, professional, customizable invoices (the main reason the company was created) with a selection of invoice templates 

Set up recurring invoices, add discounts to invoices, and set due dates 

Create and send unlimited proposals and estimates that are easily converted to invoices

Multi-currency and multi-language billing

Automatic, customizable payment reminders and late fees 

Automatic sales tax calculations 

Track expenses, group them into tax-ready categories, view spending 

Automatically track

mileage and

capture receipts data

Time and project tracking tools like profitability tracking 

Invite team members and accountants to collaborate with you, share files, discuss, set deadlines, and easily access an overview of projects

Customize email templates with dynamic fields

Automatic bank reconciliation for reviewing and tracking 

Access reports for profit, spending, cash flow, and other financial health reports

Manage client relationships better with communication and invoice logs, internal notes, and easy-to-edit information 

More than 100 integrations, including Google apps that allow you to view emails within FreshBooks and speed up the invoicing process. 

Custom quote option – for the most complex of business needs, includes assigning a dedicated account manager

Industry-standard data security measures for safe storage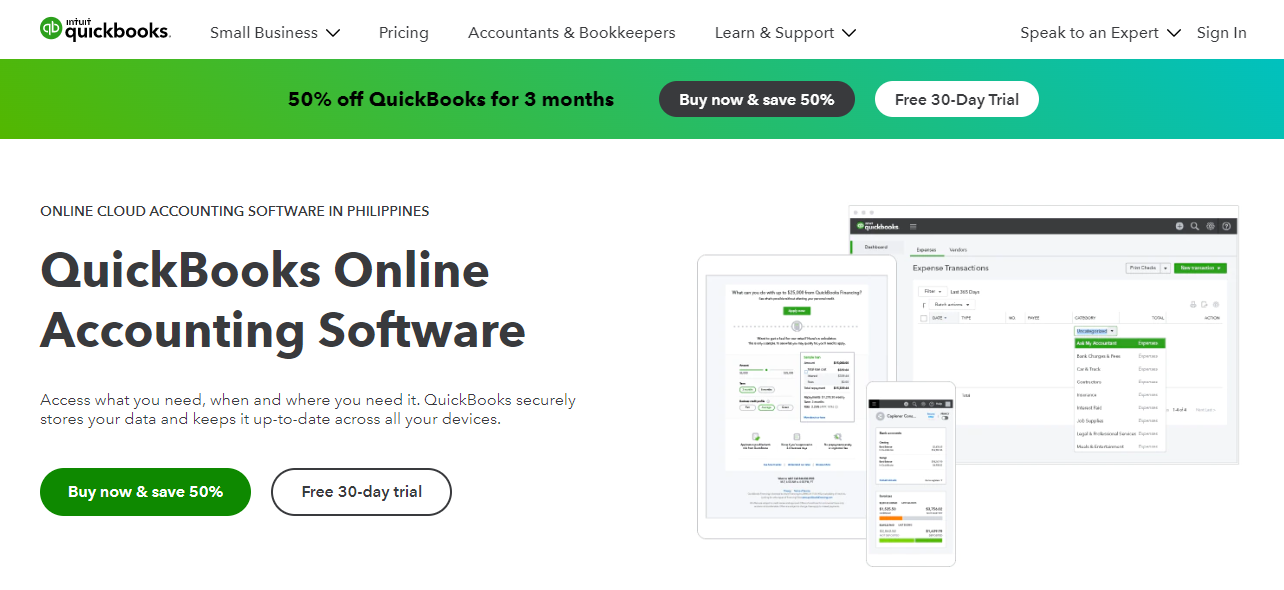 We've discussed a couple of quite popular bookkeeping and accounting software tools for Squarespace, but probably none quite as widely used and well-known as QuickBooks. This financial management and accounting software is known for being cost-effective, easy to use, and flexible. 
While we recommend QuickBooks Online for new and small businesses, their plans can scale with you up to medium-sized businesses. QuickBooks even offers a new offer of free expert-guided setup to get you started with connecting your accounts, automating tasks, and informing you on best practices. 
What do you get with QuickBooks Online?
View a custom dashboard where you can monitor the real-time health and performance of your business 

Connect your banks, cards, and e-wallets and automatically reconcile transactions 

Income and expense tracking – automatically organize expenses and income in categories wrapped and ready for tax season, create custom tags, and sort them into tag groups 

Create and send pro-grade, customizable invoices and quotes, accept payments, set auto-pay reminders and recurring billing, send batch invoices and expenses with the Advanced plan 

Automatically match payments to invoices

Run reports ranging from general in the base plan to more customizable (COGS, gross profit, net profit, etc.), monitor your desired metrics, and gain actionable insights  

Share reports and financial summaries with business partners, accountants, and select team members 

Capture and match receipts

Track mileage, categorize business trips, and get reports for possible deductions 

Track incoming or outgoing VAT 

Generate VAT reports for tax filing

Manage cash flow – forecast money in and out, view balance via the dashboard

Track worker time with timesheet management

Track project profitability, track non-billable time, and track profits, expenses, etc. by project or location

Inventory tracking, creating and sending purchase orders, managing vendors, getting low-stock alerts, checking what's popular 

Create and manage budgets and run reports

Create customizable, convertible estimates

Automate workflows, backups, and data restoration  

Access training resources 

Access to a dedicated account team 

Access Exclusive Premium Apps
Final Thoughts on Accounting Software for Squarespace Sellers
There you have it! We hope you now have an idea of what these software tools have to offer. As always, we recommend you go to these sites and check their offerings in more depth to make an especially informed decision. 
And hey, if you want some extra tips on how to handle bookkeeping as an Etsy seller, you might want to check out our beginner's guide.