Shopify accounting software or a Shopify accounting app is a must for store owners selling at least $250,000 per year.
Shopify is one of the biggest eCommerce platforms, so it has some amazing features. In terms of financial reporting, however, we find the built-in package lacking.
Shopify does not make all the reports available on every plan. Small store owners can't afford the higher-tier plans, so they will not get to see some important financial data. For example, the basic plan does not show sales and profit reports and gives only limited access to inventory reports. 
The good news is that we know of 9 great Shopify bookkeeping software programs and Shopify accounting apps that you can use.
Here are top 9 Shopify accounting software that we'll cover: 
Quickbooks Online
Xero
A2X
SimplyCost
Profiteer
ZapERP
ZohoCRM
Bizowie Cloud ERP
FreshBooks
Plus, here's a quick video breaking down different Shopify accounting software options: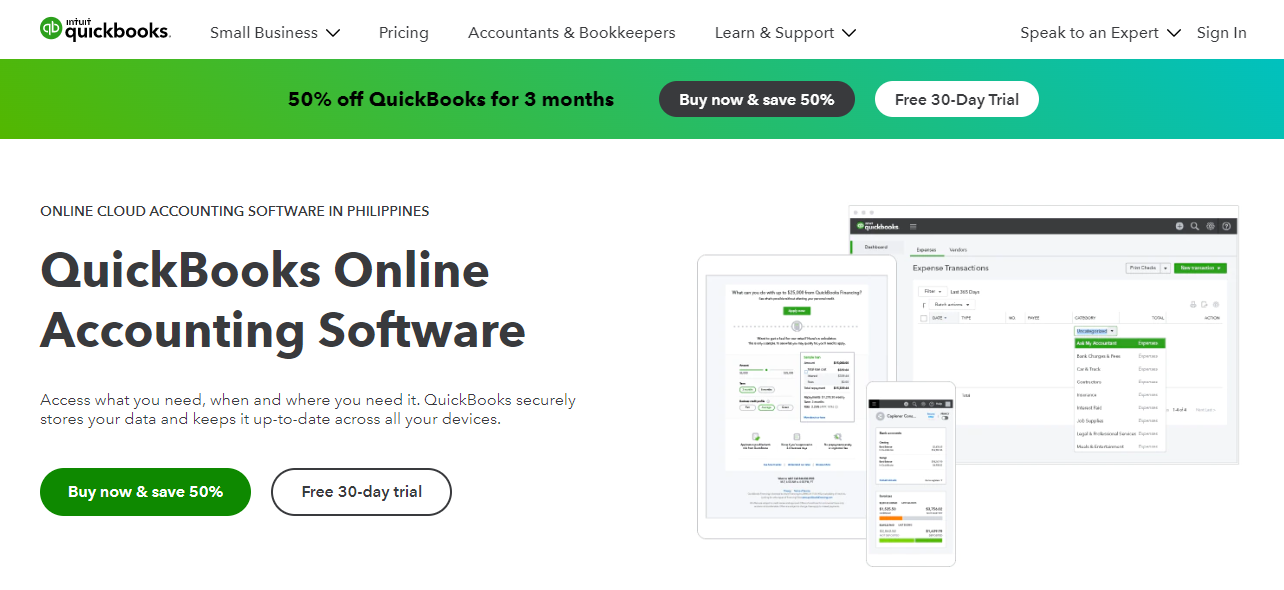 QuickBooks Online is web-based Shopify accounting software/app. Its initial release, interestingly, was way back in 1998. It currently has 5.3 million users worldwide.
Best For
Intuit designed it to be used by startups and small companies. This tool is at the top of our list for flexibility in linking more than one user and multiple locations all at once. This provides users with convenience on top of the functionality that QuickBooks desktop software provides. You don't need to install this tool on your hard drive, and any authorized user can access your account from any computer that's connected to the internet at decent speeds. This saves you and your clients and accounting people a lot of time. You also get more control over all of the financial information that you and the team manage. QuickBooks Online puts it all in a single very accessible place on the internet.
Features
work on finances remotely in real-time from multiple locations

enable multiple remote user access to financial records

enable access to financial records while traveling

best for service-based businesses that don't track inventory in their financial records

regular or recurring client invoicing

free trial 
Pricing
The starting price for QuickBooks Online is currently $16 per month for the Simple Start Plan. They often have sales up to 50% off, and you can also get a discount if you pay for the whole year instead of monthly. You can also upgrade to either the Essentials or Plus plan depending on your specific needs. These currently go for $12.50 and $17 per month, respectively.
Xero is also a web-based software system. The company was founded in 2006 in Wellington, New Zealand. More than 3 million people in over 180 countries use Xero.
Best For
This tool works best for startups and small organizations, too. Xero is popular as a solution that's very easy to use. You can look at your cash flow in real-time, and do billing and banking transactions online. Your accounting is also stored online, so you can check and update it anytime, anywhere.
Xero is a leader in online Shopify bookkeeping software. It works to connect small business owners to financial advisors. Like QuickBooks Online, Xero is very easy to use. It has powerful features, though, as a tool designed to be everything that you will need to manage your business financials.
Features
free 30-day trial includes all features

no additional fees or minimum contract term

free online support

automatic data import and coding of bank transactions for reconciliation 

automatic invoice creation and sending for instant online payments

multiple powerful add-ons for supplemental tools (e.g.

FreshBooks

,

Salesforce

,

ADP

,

Harvest

)

mobile invoicing, expense tracking, cash flow viewing, etc.

inventory tracking 

bulk bills payments to creditors

instant real-time financial reporting with quick links to original transactions

review and approve receipts for expense claims 
Pricing
Pricing for Xero used to be at the lower end, but they've recently upped their service functionality. The Starter plan of Xero is now $22 per month, but you can test it out with their free trial. As your business grows, you can upgrade to the Standard plan for $35 or the Premium for $47 per month. 
A2X, founded in 2014, is automated Shopify accounting software for Amazon sellers. It promises accurate eCommerce accounting for marketplace sales and FBA inventory. This tool also works with QuickBooks and Xero to help you manage accounting across marketplaces. A2X can help you to manage your sales, marketplace fees, the cost of goods sold, and even FBA inventory that you are selling on Shopify. It can even automatically pull Amazon settlement transactions for you and upload them to a different accounting system.
Features
automatic Amazon settlement importing

summary of transactions (e.g. revenue, expenses)

summary of sales filtered by SKU, product type, country

per-settlement invoice and journal generation

automatic posting to your accounting system

match sales to inventory costs

view FBA inventory value and track FBA inventory

calculate accurate gross margin
Pricing
Pricing for A2X for Shopify starts at $19 per month for the Mini plan. This covers up to 200 orders per month. You can try their Basic plan for $39 per month or their Professional plan for $69 per month if you sell more or need greater functionality. You can check the pricing for other integrations here.
SimplyCost is a Shopify plugin that helps you track your cost prices and profitability. Zapfor Apps created this tool in 2016. This Shopify accounting software app lets you add cost prices and profit tracking directly to your Shopify store. You can then see automatic calculations for profitability on their easy-to-read reports. You can break down the data on these profit reports by filters like month or day, by product type, order, or vendor. SimplyCost goves you a clear idea of how your store or a specific product is performing.
Features
automatic calculation of profit and cost of goods sold

expense tracking and reporting
Pricing
SimplyCost pricing is currently $4.99 per month with a 14-day free trial.
Profiteer is also a plugin-style Shopify accounting software tool. Resistor Software launched it in 2014. It helps you to track cost of goods sold so you can better manage the cost prices of your store. You can also track inventory and store all the cost price data within the Profiteer app.
Features
track profits and sales margins

store cost price data with automatic currency conversion

record sales

calculate cost of goods sold 
Pricing
The Profiteer app pricing starts at $15 per month for the Basic Plan. You can upgrade to the Large Inventory plan for $30 per month. This covers stores with more than 25,000 SKUs. You can take advantage of the free trial, but it only lasts for 3 days.
ZapERP is more than just Shopify accounting software. This tool can handle stock management and order fulfillment for multi-channel businesses. ZapERP launched in 2017 and already has over 2,000 users worldwide.
This is the tool for you if you want powerful stock management and order fulfillment capabilities built into your eCommerce bookkeeping software. You can use this tool to manage stocking and fulfillment from multiple warehouses, too. On top of this, you get features like purchase data, barcode scanning, and even packing and shipping. ZapERP also integrates with WooCommerce, Amazon, QuickBooks, Xero, MailChimp, and other CRM software.
Features
iOS and Android mobile apps

multiple channel inventory and warehouse management in batches and multiple currencies and languages

create, edit, and email purchase orders, receivables, and bills

infinite integrations with no data segregation
Pricing
ZapERP pricing is also subscription-based. The discounted pricing for the annual Lite plan is $25 per month. You can upgrade to the Accelerator plan for $67, which allows up to 3 users. You can also do the High Growth plan for $125. This covers you if you have up to 8 people accessing your account. You can try the tool for free and also purchase add-ons. 
Zoho is unique as a sales CRM software in that customers created it. This platform launched in 1996 and currently has more than 13 million users worldwide. Since 2005, this legacy CRM still offers over 40 native apps and more than 500 third-party extensions to users.
Best For
Zoho CRM is what techies call a "360º online business management platform." It serves all sizes and kinds of businesses in all areas. For example, with this tool, you can track and nurture leads down your sales funnel. You can also use this hub to keep your eye on all the trends that have the potential to impact your business. One of the best features of Zoho is the ability to work with your teams in the system in real-time. 
Features
business intelligence

journey orchestration

AI-powered prediction and recommendations

remote work functions

blends general-purpose solutions with vertical solutions 

non-code user interface redesign capabilities with Canvas to personalize the system for your specific requirements and preferences

reach customers via live chat, email, telephone, and social media

get real-time notifications of customer interactions and measure customer communication effectiveness to target best times and channels for future communication
Pricing
The cost of Zoho CRM starts at $14 per user per month if you choose to pay annually. You can also test it out with the free or use the free version to start.
Bizowie Cloud ERP launched in 2008 as a web-based system. The company created this Shopify accounting software as a fully integrated business suite for manufacturers and distributors. It is based on a robust financial accounting system that uses GAAP principles. You can manage your company's entire workflow with Bizowie, all the way from inventory procurement to quote to cash.
Features
financial accounting with quote to cash

Customer Relationship Management (CRM)

purchasing suite (Procure-to-Pay) with inventory and warehouse management (WMS) plus shipping

manufacturing suite (Estimation/MRP/MES) 

human resource management (HRM)

B2B customer portal

knowledge management and database/workflows
Pricing
Pricing for Bizowie reportedly starts at $1,000 per month. You don't get a free trial and you have to contact them to schedule a demo and get a quote. This is a subscription-based service, and it's basically priced per active user. 
FreshBooks is another cloud-based accounting solution. The founders launched the tool in 2004, and it currently boasts more than 100,000 users.
Best For
Freelancers and small business owners form the bulk of users for this Shopify bookkeeping software.
FreshBooks designed it for this niche, including virtual eCommerce bookkeeping services, although the software has grown over the last decade. The tool remains a simple and intuitive solution that keeps accounting easy for non-accountants. You can use this tool to save and track expenses, create professional invoices, and even track the time that team members have spent on certain projects. With all your data stored securely in the cloud, your teams can work from anywhere, anytime, and on any device, too.
Features
easy invoicing and billing with online payment options for fast payment

bank account connection to capture expense transactions automatically 

categorize and record expenses for easy tax filing

free mobile apps for iOS and Android 
Pricing
FreshBooks pricing starts at $4.50 per month on the Lite plan. Upgrade as your business expands or switch to a more product-focused tool.
Final Thoughts
A quick search for Shopify accounting software or Shopify accounting apps on the platform itself will give you about 1,300 results.
That's a lot of tools to choose from!
We think that it's great that you have so many options available. However, this can also pose challenges for any business that hasn't used Shopify bookkeeping software before.
Most of these tools have several overlapping features and functions. Pricing, however, can vary greatly. You can always try out a few and then switch if you aren't satisfied. This can be quite the hassle, though, and make you spend more than you need to. 
So, how does one make the best choice? 
Go through the features for each high-rated tool on this list.

Look mainly at the functionality that matters the most to you.

Then you can look at the pricing to see if that makes sense.

If you're satisfied, check the remaining details.

Before you make a final decision, look at the full list of what the company offers by reading through its website.

If you can, schedule a call with them to go over any questions or concerns you might have. You can also reach out via email to get your answers.
About EcomBalance
EcomBalance is a monthly bookkeeping service for eCommerce companies. EcomBalance handles your bookkeeping and sends you a Profit and Loss Statement, Balance Sheet, and Cash Flow Statement by the 15th of each month. EcomBalance also has a sister company, AccountsBalance, that caters to agencies, software companies, coaches, and other online companies.