We highly recommend that you use accounting software online so that you can enjoy the greater convenience that it provides. This will help you ensure that you are always prepared with organized records ahead of tax season deadlines.
In this post, we'll show you our 5 favorite accounting software tools for small businesses. They are designed as small business bookkeeping software for your convenience, but are also loved by accountants!
What is Accounting Software?
Accounting software is any tool designed for use on a computer that will help your bookkeeper to keep accurate records. It will give your accountant an easier time, too. Accounting software generates reports on a business's financial transactions, for example. Different accounting software online and offline have different functionality. Some are made for small business use, for example, versus larger firms. 
The purpose of bookkeeping and accounting software is to make calculations easier. It does the computing for you, and helps you to understand the numbers more easily as well as analyze the data so you know what to do with it.
The 5 Best Accounting Software Tools for Small Businesses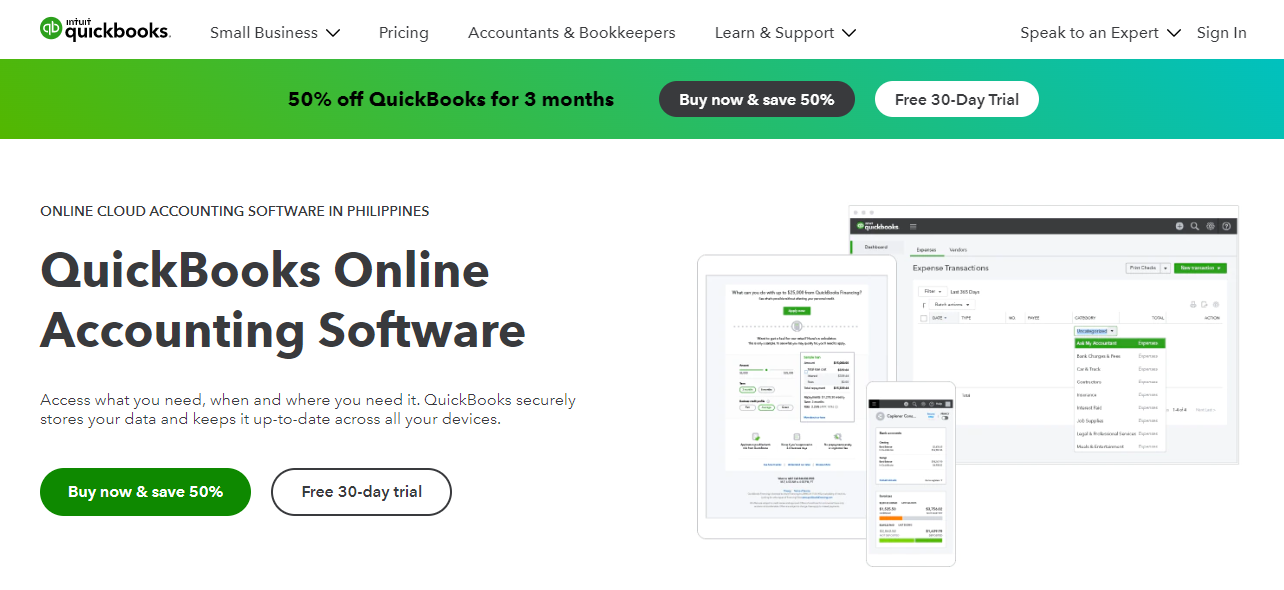 QuickBooks Online is web-based accounting software. Interestingly, the first release was in 1998. Currently, it has 5.3 million users worldwide. Intuit designed it for use by startups and small businesses. 
This tool tops our list for the flexibility it offers. You can connect more than one user and multiple locations at once. You get better reporting options in QuickBooks, especially in the Online suite. This software is used by thousands of accountants and bookkeepers. It also uses double-entry bookkeeping, an industry standard.
It offers convenience to users, too. You don't need to install this tool on your hard drive, and any authorized user can access your account from any computer connected to the Internet at a decent speed. This will save you and your clients and accountants a lot of time. You also get more control over all the financial information that you and your team manage. QuickBooks Online puts everything in one easily accessible place on the Internet. 
Xero is also a web-based software system. The company was founded in 2006 in Wellington, New Zealand. Xero is used by over 3 million people in over 180 countries. Xero is the new leader in online accounting software. It uses standard double-entry bookkeeping, but leaves out unnecessary fluff like accounting jargon that often confuses the layman. Xero does a great job of connecting small businesses with their advisors.
This tool is also best for startups and small organizations. Xero is popular as a solution that is very easy to use. You can monitor your cash flow in real-time and do online invoicing and banking transactions. They also store your accounting data online so you can check and update it anytime, anywhere. 
Xero works to connect small business owners with financial advisors. Like QuickBooks Online, Xero is easy to use. However, it has strong features as a tool designed to do everything you need to manage your company's finances. Xero is an online accounting solution specifically for small businesses. Like its competitor above, it has grown to include larger suppliers. 
Xero is best known for its ease of use, even for people with no accounting experience. You can use it on any device, from anywhere, as long as you can connect to the Internet. It offers online banking, invoicing, and accounting so you can track your cash flow in real time. 
FreshBooks is a cloud-based accounting tool. The founders launched this tool in 2004. It now has over 100,000 users. Freelancers and small business owners make up the majority of FreshBooks users. It was designed to serve this niche, including virtual eCommerce accounting services. The software has evolved over the past decade, though. 
The tool is a simple and intuitive solution that makes accounting easy even for non-accountants. Even people without accounting knowledge can use it without a problem. FreshBooks has an intuitive dashboard with clear menu-style navigation.
You can use this tool to store and track business expenses, create professional invoices, and even track the time team members have spent on certain projects. With all your data safely stored in the cloud, your teams can work anywhere, anytime, on any device. Like the tools above, you can easily access your data using your mobile phone. However, the feature is limited on mobile compared to the full web version of the app.  
Wave advertises itself as a one-stop money management tool for small business owners. With a free account, you can get immediate access to several features. It has a user-friendly dashboard that is designed for you, not your accountant. You get a total overview of the health of your business at any time you want, as long as you have an internet connection. Wave also makes their in-house team of bookkeeping, accounting, and payroll coaches available to you.
This tool offers several key features to make bookkeeping and accounting simple. First, you get invoicing to track payments due so you can stop chasing unpaid invoices. Second, Wave payments gives your customers convenience with options to pay with a credit card, do a bank transfer, or use Apple Pay, all in one click. Third, you can track income and expenses as well as monitor your cash flow easily to stay organized and always ready for tax season. Fourth, use Wave Money to keep your expenses and income automatically synced with the software. Fifth, if you also need payroll services, this app was made for small business owners to be able to pay staff in minutes. 
Zoho Books is part of the complete Zoho CRM. This tool is the online accounting software part for managing finances. It helps you automate your business workflows and collaborate with different departments to keep things neat. 
Zoho Books offers end-to-end accounting from negotiating new deals to placing and invoicing orders. The tool is tax compliant and helps you keep updated on your sales tax liability. You can also use it to easily prepare your audit reports in accordance with IRS guidelines.
Zoho Books is flexible, too, so it can grow with your business. As an integrated business platform, you just choose all the add-on apps you need as you go. This way, you can run multiple aspects of the business on one platform.
Final Thoughts on

Accounting Software

Peace of mind is priceless. The right accounting software for your small business will give you that. Most accounting software online covers the basics of what you need to keep accurate records for tax purposes. Some small business bookkeeping software, however, will give you additional features. Choose the tool that best serves your specific needs.

If you're interested in hiring a bookkeeper to handle the accounting software for you, reach out to us at EcomBalance, set up a call, or get a custom pricing quote.
About EcomBalance
EcomBalance is a monthly bookkeeping service for eCommerce companies. EcomBalance handles your bookkeeping and sends you a Profit and Loss Statement, Balance Sheet, and Cash Flow Statement by the 15th of each month. EcomBalance also has a sister company, AccountsBalance, that caters to agencies, software companies, coaches, and other online companies.